Our mainly products are INDUSTRIAL CARBIDE BURRS, LABORATORY CARBIDE BURS, SURGICAL CARBIDE BURS, OTHER DENTAL INSTRUMENTS. All of these carbide burrs are made by CNC.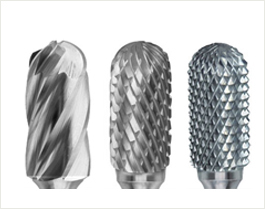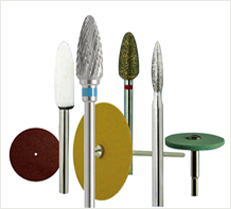 Industrial carbide burrs
You can have all the popular cutters in the world from our company. Meanwhile, you can specify the other cutters according to your demands.
We can supply different kinds of length of shaft from 38mm to 300mm.
For different hardness material, we have accordingly grade tungsten carbide burrs to work on them.
They are mainly used in shipyards, foundries and steel construction, mould fields.
Laboratory carbide burs
We have nearly 200 kinds of such kind of carbide burs for your choices freely. Most popular shapes are included.
All of them have HP shank (ISO 104), diameter 2.35mm, suitable to all low speed handpiece.
Different kinds of cutter types range from super coarse cutters to coarse cutters, medium cutters, fine cutters and extra fine cutters.
Special kits of dental tungsten carbide cutters are OEM available by dental technicians and other demands.
They are mainly used in dental laboratory, jewellery, mould design, jade and stone, podiatry fields and so on.
Clinical carbide burs
We have wide range of such kind of high speed carbide burs.
All of the shank is 1.6mm diameter except for RA shank 2.35mm.
Standard FG shank(19mm), FGSS shank(16mm), FG longer head(21mm) , FG SURG(25mm), RA shank(21mm), RA SURG(34mm).
Besides standard teeth, we have trimming & finishing Burs(12 blades and 30 blades),Scaling Burs, metal cutting burs, crown cutting burs.
They are mainly used in clinic, jewellery, mould design, engraving, glass repair.
Other dental instruments
Diamond burs and discs
Rubber polisher
Polishing brush
Separating disc
Sintered diamond burs
Zirconia instruments